Posts: 1
Joined: Tue Jan 16, 2018 3:08 am
Hello everyone! I just released my game, Rheum!
Travel through a fleshly vessel, as an eyeball, collecting rheum [eyeball crusties] to grow stronger in your fight against the infection plaguing this.......body.
FEATURES
3 levels of juicy maddness
Easy, Hard and Endless Mode
Endless Mode features 5 unique power ups
A plethora of bullets and eyeballs!
Stackable Power Ups(for even more bullets and eyeballs!)
Keyboard/Mouse or Controller Support
An original soundtrack
Best with headphones!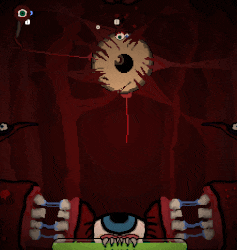 You get it free over on itch.io:
https://spacemyfriend.itch.io/rheum
Or on gamejolt:
https://gamejolt.com/games/rheum/310869
Let me know what you think!
---
Who is online
Users browsing this forum: No registered users and 4 guests