Long time no update! After two and half years of hard work our small team of three is nearly done developing our twin-stick shmup where you play as a crow!
Steam page for A Quiver of Crows
360-degree twin-stick chaos!
Local / couch co-op so you don't have to go it alone
Upgradable weapons, bombs, and shields
Unique environments and physics not common in shmups
Play using controller or keyboard & mouse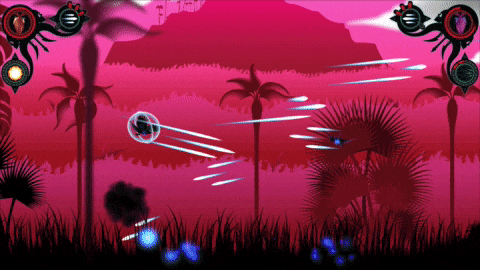 In the animated gif, you can see the four different types of weapons we cycle through.
Animator's Vlog - Danny talks about animating the toucan. In the gif above, you can see the ghostly toucan in action -
who you gonna call??
A developer Let's Play - Chad and I play through a level while talking about the updates we added. This is months ago, really old Let's Play, but can give you a better idea of what the gameplay is like.
The game will be launching for Windows, Mac, & Linux on Steam. It will be priced at $14.99 / 14,99€ / ¥1,480 and there will be a 10% discount during the first week of launch. So make sure to wishlist now and get the game during launch week! Don't let the beauty fool you - it is a challenging game. I made sure of it. I'm the level designer, as well as co-developer, balancer, and composer...that's why I haven't been posting much, because I'm so busy!
If you have any questions, please feel free to contact us at
crows@sheado.net
or start a discussion in our community hub. And don't forget to follow us on Twitter
@AQuiverOfCrows
for more frequent updates!
---
---
Aww, thanks so much monoRAIL!
---
---
Our game is now available for purchase!
A Quiver of Crows on Steam
Our game also features the song "Better Days" by Laura Shigihara, who's also the composer for Plants vs Zombies, composer/singer of "Everything's Alright" for To The Moon, and the voice of the Singing Sunflower companion pet in World of Warcraft. Check out the beautiful music video!
---
Who is online
Users browsing this forum: No registered users and 3 guests