Hello guys and girls,
first of all i would like to introduce myself. I come from Belgrade, Serbia, i'm 34 and i grew up playing likes of U.N. Squadron, R-Type and Uridium on C64, then Z-Type, Project X and Xenon 2 on Amiga 500, all the way to Jets 'n' Guns and Steredenn on PC. I'd like to present my work in progress game to you!
Gameplay and features
RHAG is, despite it's name fitting an adventure game better, a more or less classic 2D horizontal scrolling shoot 'em up i always wanted to make. It's a mixture of Jets 'n' Guns (who has the Story Mode) and Steredenn (which is basically and Endless Mode only game). The story features Rick Henderson, a disillusioned galaxy war veteran who turned to suspicious activities after the war to make ends meet, his robot follower, sarcastic Ben who makes every conversation fun, and a lot of NPC's who will be introduced during the development.
Story Mode Single Player - Interesting storyline full of dialogues with interesting characters to keep you amused between levels.
Endless mode with Multiplayer - Local and Online
Daily Challenge - Once per day Endless Mode Run with predefined equipment and perks
Online Leaderboard - Compare your scores with your friends and other players
6 factions - Pirates, Rokh Raiders, Terran Confederacy, Vakshaa, SunDyne Corporation and Paragons.
40+ types of enemies (for now)
30+ types of weapons and upgrades (for now)
Single Player is featuring a shop between levels where you can equip your ship with weapons, drones, engines, utilities, shields and armors.
Weapon types: Ballistic, Energy, Explosive, Meelee. Each type of enemy is usually resistant (partially or fully) to a certain type of damage, so watch your loadout! Ship can equip two weapons, but they can't be fired simultaneously. Weapons also generate heat, so you can't keep that button pressed all the time.
Graphics:
Game is done in pixel art which i really love and which proved itself as (usually) the best choice for shmups due to its clarity (and yes, development costs). I'm not much of an artist, so besides the things i do myself (backgrounds and small art), credits go to Lighterthief, a young lad from Netherlands who does some amazing graphics. I'm often awed how quickly he can make some good looking stuff. You can check his art on his Twitter account: @Lighterthief
Sound:
I've been a musician and sound designer in my spare time doing mostly electronic music for the last 15 years, so i've got that covered.
If you are interested, i run a devlog over at Tigsource forums and my website with many interesting insights into mechanics of making a shmup.
At the moment, i am developing the endless mode, since story mode takes much more time for level crafting and balancing. Here are some gifs and screenshots, hope you like it, i'll be happy to answer all your questions
)
Pickups (weapons, upgrades, powerups)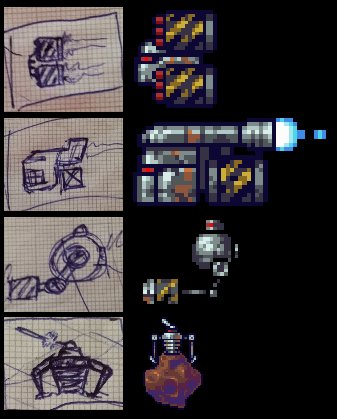 From sketches to final art
Bigger ships explode in debris
The Paragons, faction that uses stealth and displacement
Some color testing
New work, what would a shmup be without lasers. The guy in the picture is Terran confederacy.
---
The best part about gamedev is when you can relax and fiddle around with graphics.
---
The game looks great, and there's tons of interesting stuff on that devlog.
| | | |
---
Thank you! There's a new devlog on the website about the scoring system if you're interested
---
Who is online
Users browsing this forum: No registered users and 1 guest